West Bend 84386 Oblong 6 Qt Slow Cooker Lid
We recently had the lid for our West Bend model 84386 6qt crockery cooker shatter, and I am amazed at how difficult it was to locate a replacement.  Apparently the original stock has been completely wiped out and there's nothing directly being marketed as an aftermarket replacement.  The cooker is too nice to just throw out, so we ended up doing some hunting and measuring.  I ended up ordering a "HB083 Hamilton Beach 6 Quart Crock Pot And Slow Cooker Replacement Oval GlassLid" from here (ThePartsBiz.com), which measures 12 1/4″ by 9 3/4″ and claims to fit the Hamilton Beach models 33162, 33162R, 33162RZ, 33164, 33164TC, and 33165.
Turns out, it was a pretty good fit.  Not absolutely perfect, but the rubber gasket around the rim of the new lid is pretty forgiving and doesn't leave much of an observable gap.  It breathed new life into a cooker we  hated to lose for want of a lousy lid.  If you find yourself searching for a lid, maybe this will help you out.
(Original posting 2012-Nov-21)
Update 2016-06-28
Someone expressed concern regarding the fitment of this lid to the cooker.  I'm assuming the seller is still providing the same (or a very similar) product, but I have no affiliation with them to be able to make a definitive statement.  However, I did realize that I never posted any pictures of my cooker with this replacement lid, and thought that might be useful to someone as well.
Here are a couple of images to illustrate general fitment on the cooker, as well as a close-up of the soft rubber gasket that does a nice job closing up any gaps between the lid and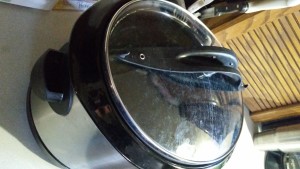 18 Comments